Rinko Kobayakawa
Talk

0
29pages on
this wiki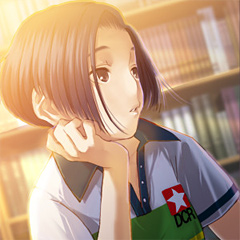 Interests
Reading, Music (Western Music, specifically London Punk), Game (Fighter), Cats.
小早川 凛子
As you are forced to become a member of the library committee, you meet up with Rinko, who is a freshman, but a senior committee member. Rinko constantly wears earphones and an attitude to keep people away.
Rinko's attitude stems from her feeling alienated and unwanted in her home after her father remarried, bringing a new mother and younger brother into the house. "Whenever I am home, the atmosphere darkens", as Rinko described. She wanders the streets after school, avoiding going back to an unwelcoming home. That's because her father remarried another woman, having a new brother. However, Rinko cannot accept that and does not return home and believes it's all her fault.